Lady and the Unicorn
Item ID: EWA-6857-9483
Select Size(2)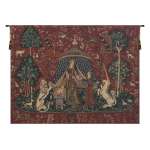 Select Size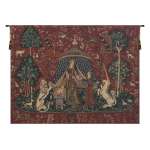 A - H 33" x W 44"
EWA-6857-9483
Quantity:1
Usually Ships in 2-7 days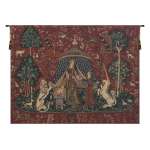 B - H 52" x W 69"
EWA-6857-9484
Quantity:1
Usually Ships in 2-7 days
Product Overview
Lady and the Unicorn Belgian tapestry is one of many in the "Lady and the Unicorn" (La Dame A La Licorne) series. The lady stands in front of a tent, across the top which reads "A Mon Seul Désir" (To my only desire). Her maidservant stands to the right, holding open a chest. The lady is placing the necklace she wears in the other tapestries into the chest. To her left is a low bench with bags of coins on it. The unicorn and the lion stand in their normal spots framing the lady while holding onto the pennants. This tapestry has elicited a number of interpretations. One interpretation sees the lady putting the necklace into the chest as a renunciation of the passions aroused by the other senses, and as an assertion of her free will. Another sees the tapestry as representing a sixth sense of understanding. Other various interpretations see the tapestry as representing love or virginity.
A - H 33" x W 44":3.00 lb
B - H 52" x W 69":6.00 lb
Features
| | |
| --- | --- |
| Product Type | Tapestry |
| Color | Red |
| Composition | 70% Cotton, 30% Viscose and Polyester Blend |
| Finish | Backed with lining and tunnel for easy hanging |
| Shape | Rectangle |
| Location | Living Room |
| Artist | NO |
Usually Ships in 2-7 days
Estimated Shipping Date: 09/26/2023